Since time immemorial the political scenario in Kerala has been clouded in ambiguity. The waves of communalism and pseudo-secularism have marred the various societal structures. Consequently, human life has suffered jeopardy at the hands of irresponsible powers. There also arose print media that disregarded and undermined nationalistic fervour and values that was for long upheld by the Indian community. It can be rightly argued that even though the print media in Kerala can boast of a glorious history, it has always been at the cost of the negligence of our country's true culture, tradition, values, and lifestyle. Kerala became an epitome of corruption, communalism, and terrorism. The public media in Kerala was turned into an instrument of party policy; community media was repressed and private media was concentrated in the hands of a few monopolies. People felt adire need for a genuine source that would probe into the matters happening around them and provide them with valid information. The situation changed radically after the 1967 general election.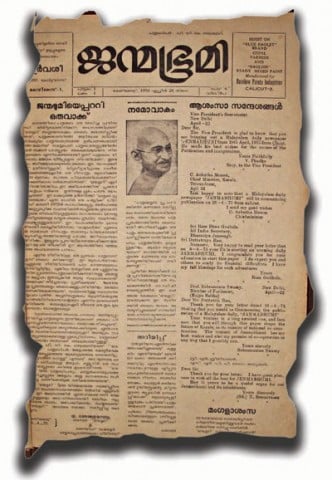 The general election in 1967 marked the beginning of a new national consciousness that was to reverberate for years to come. It was then the Bharathiya Janasangh proved its mettle against the Congress party. In the 1968 State council meeting held at Thalasserry, a resolution was passed to launch a Malayalam Daily for promoting nationalistic values. And this marked the beginning of a new era of honest and responsible journalism. Under the able supervision of Sri. P Parameswaran, Sri K Raman Pillai, Sri. P. Narayanan, Sri. U. DathathreyaRao, Sri. C. Prabhakaran, Sri. Punnath Chandran, Sri. M. Sreedharan, Sri. K.C. Sankaran, Sri. V.C. Achuthan, Sri. P.V.K. Nedungadi, Sri. Kummanam Rajasekharan, Janmabhumi set out to restore the Indian identity that was dismissed in terror politics. It was a blow in the face of Kerala print media who had deviated from the people's aspirations. Janmabhumi set out to exceed the standard set for them and was able to immediately gather an audience that was eager to listen to what they had to say.
Janmabhumi was initially launched as an evening tabloid from Kozhikode on 28th April 1975, owned by Mathruka Pracharanalayam Ltd. Sri. P.V.K. Nedungadi was the first chief editor. Sri. Dathathreya Rao was made Managing Director. Sri.P. Narayanan took over as the manager. Within a very short period the paper caught the imagination of the general public. But within two months, the declaration of emergency rule fell like an axe on Janmabhumi. The Managing Director, Chief Editor and Manager were arrested and kept under detention. Even though there was no ban on the paper, the administration created conditions which did not allow continuing. After the restoration of democracy and establishment of a new government at the centre, efforts began to resume publication of Janmabhumi from Ernakulum. On November 14, 1977, it was re-launched as a Daily, holding up values and commitment to the society at large, with its slogan "A Newspaper for Social Reformation and National Reconstruction". Sri.P Narayanan took over as printer and publisher and Sarvodaya leader Prof. M.P. Manmathan as the Chief Editor.
It wouldn't be farfetched to say that Janmabhumi is one of the leading newspapers in Kerala. Over the past few years, numerous newspapers have had to shut down at the time of crisis. However, Janmabhumi has always managed to come out of the adversity evermore successful.Janmabhumi owes its success to its enormously faithful audience who have instilled a sense of confidence to keep moving forward no matter what. We here at Janmabhumi, have always looked out for our readers as they have looked out for us. It is this co-dependence that has contributed to the growth and the reason why Janmabhumi is where it is now.
Stalwart of Malayalam Journalism Sri V.M Korath, Sri P Narayanan, Shri. Thuravur Viswambharan, Sri. Hari.S.Kartha, Smt. Leela Menon had led the Janmabhumi as Chief Editors. Sri.K.GMarar, Sri.P.P.Mukundan, Sri. V. K. Chandrashekaran, Sri. K. Sethumadavan, Sri. K. Purushothanan and Sri. Kummanam Rajashekaran headed Janmabhumi as the Managing Directors. Sri.P.Sundaram, Sri. M. Mohanan, M. Mahadevan, Sri. N.S. Rammohan,Sri. T.M.V. Shenoy,Sri K.V.S. Haridas and Adv. P. S.Sreedharan Pillai also had served Janambhumi in different responsibilities.
Another major factor that has also contributed to the growth of our newspaper are the forces that pull the reign and steer us forward incessantly. The institution is now headed by Sri. M. Radhakrishnan as the Managing Director, Sri. K. R. Umakanthan and as the Managing Editor,Sri K N R Nampoothiri as the Editor and Sri. K. B. Sreekumar as the General Manager. These prominent personalities have regularly challenged the quality of our work and aren't ready to compromise for anything less than exemplary.
Acknowledging the arrival of the digital era, Janmabhumi has extended its service online guaranteeing its readers a platform that is reader-friendly, customisable and regularly updatable. Readers now have the provision to access news from all around the world at their fingertips. The virtual platform has also enabled the articles to be more interactive with the inclusion of videos. This economical route is an environment-friendly one and has therefore ridden its readers and distributors of the guilt of harming the environment.
Janmabhumi is known for promoting national cohesion, national values and integrity, but we have always faced and is still facing opposition from the sects who aren't sympathetic to our cause. Even though we have strived constantly to combat the daily bouts of terrorism by the other print media and major political parties in Kerala,our efforts are often met with resistance from the political powers. Janmabhumi has been ignited for the constant cry for change. The increasing number of readership and editions stand as a true testament to the people's trust in our cause and their way of informing us of their exhaustion with the present scenario. Janmabhumi now has nine editions, including one in Bangalore. We aim to launch our daily in every state of our country. Our mission is to extend nationalistic ideals all around India reminding its citizens of their authentic heritage and culture. And we vow to our audience to be true to our ideals and to be the voice of change that they were yearning for a very long time.